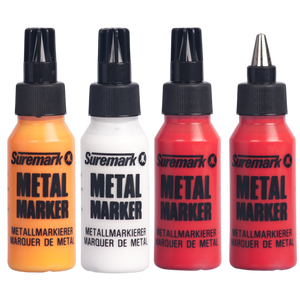 Metal Markers (Includes head)
The versatile Metal Marker is specially designed for use on a wide variety of metal and non-porous surfaces. It will mark on clean, dirty, greasy, or rusty surfaces.  Ideal for metal fabrication, concrete fabrication, welders, pipeline and rail industries.  The ink is formulated for durability and long life and is resistant to most oils, solvents, and weathering.  Includes heads.

- steel applicator head with a 2.4mm ball tip
- Refillable using Suremark 1l Metal Ink Refills
- Replacement nozzles available
- Easy to use with gloves on

Colours : yellow, blue, red, white, green, black, orange
Packaging : Single or boxes of 10 (single colour)
Additional details : Replacement heads are also available
Usage : Holding the applicator at right angles to the article being marked, apply a light pressure on the ball tip and squeeze the applicator slightly. The technique of using the metal marker is soon acquired.