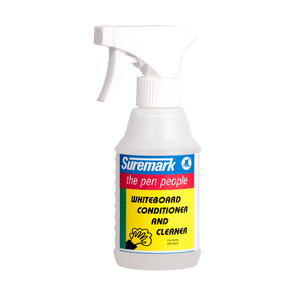 Whiteboard Cleaner & Conditioner Spray
Whiteboard Cleaner & conditioner spray bottle contains 250mls of cleaner & conditioning solution.  It removes dirt, grime, permanent ink, stains and marks that develop with constant use over time and are hard to remove with clothes and erasers alone.  It also adds an easily erasable surface to whiteboards.

Usage : Remove all writing with a cloth, Spray the entire board and wipe of with a clean cloth.  A second application sprayed on the board and spread with a soft tissue leaves a slightly "oily" film which conditions the board and helps the erasability of the whiteboard ink.